Christmas Day is such a Big Day. It is traditionally celebrated by families around Australia with a get together on Christmas Eve and then again with family on Christmas Day. Some people on Christmas Eve will be madly dashing around to get friends and family last minute presents. Others will be finishing the office or factory work year with friends and some will be celebrating Christmas around the Christmas Tree on the Eve.
Christmas is a season of giving and people swap presents or even do a Kris Kringle where presents are combined. Families will want to break bread traditionally over Christmas Dinner and sometimes it's a good idea to head out to a restaurant and leave all the meal preparation to those venues. Roasts followed by pudding will be the order of the day. To help, christmasday.net.au has provided details of venues that will provide services for your Christmas. Enjoy!
Christmas Day News

Christmas Lunch and Party updates from restaurants and hotels that have events to get together at and celebrate Christmas around Australia.
November 25, 2021 - Have you got your Christmas Day booked? There is not long to go make sure you book your favourite venue before you miss out.
November 24, 2021 - With just over a month to go we've got new Christmas Day details for some of your favourite Melbourne Venues.
December 16, 2021 - With Christmas Day getting closer check out all the Melbourne Christmas Day details including Lunch and more before they're all booked out.
December 14, 2021 - Great new details for Christmas Day Lunch options in Perth. Check is out for Christmas Day in Perth.
December 13, 2021 - New details for Christmas Day in Sydney. Check them all out on Sydney Christmas Day page.
October 30, 2021 - Christmas Day is on Wednesday 25th December 2019. Spoil your family with a Christmas Lunch.
August 16, 2021 - New Details for Christmas Day Lunch at the Vines Resort in Perth. Check it out on our Christmas Day in Perth page.
Christmas Party and Christmas Day Lunch Ideas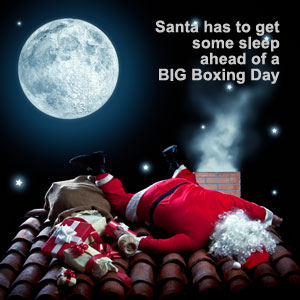 Here are a few great ideas for things to do for Christmas!

Christmas Events
The day After Christmas is Boxing Day
After Christmas Day is Boxing day where people sometimes relax and rest and maybe graze with Christmas left overs. Others want to get active. Checkout the ideas.

End of Year Sales... Summer bargains.
Sale suggestions over the End of Year period. Christmas Specials galore!